This archaeological site represents a long historical sequence told through its steles and altars that tell stories of a direct succession of the Mayan royal dynasty.
Due to its cultural and natural riches of exceptional universal value, in 1979 it was declared by UNESCO as the first World Cultural and Natural Heritage Site for Humanity, with a significant sample of subtropical jungle, habitat for numerous species of flora and fauna; in addition to an unforgettable experience for tourists that visit this architectural wonder.
The Tikal Park has around 5,000 pre-Hispanic buildings in an area of approximately 16 km², of which only 5% is restored and enabled for exploration with the company of expert guides in the fields of archeology and natural history of our country.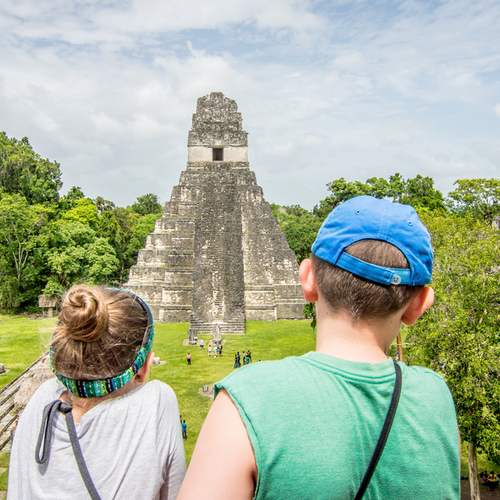 Temples of imposing height that you can see from the beginning of this tour, peeking out from the tops of the lush trees of the Peten jungle, an image that evokes the splendor and abandonment of the largest city of the classical Mayan civilization.
The six great pyramids of the city, crowned by temples, were built with their current appearance in the 7th and 8th centuries and reach an impressive height, between 43 and 70 meters. You can visit and appreciate a view from unimaginable heights as part of this spectacular tour.
We invite you to learn more about the history of the origins of humanity in an experience full of exciting events prepared exclusively for you.